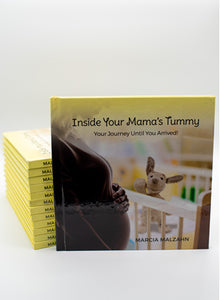 Inside Your Mama's Tummy case of 20 hardcover books for your event.
A case pack is a great way to buy books in bulk at a cheap discount for your classroom, bookstore, book club or to give away at your next event.
This item is for continental United States customers with shipping addresses in the continental US. If you are interested in purchasing for international shipping, please contact us for special ordering instructions.
Product details
Hardcover: 64 pages
Publisher: Malzahn Publishing (April 7, 2022)
Language: English
ISBN-10: 1733928219
ISBN-13: 978-1733928212


Box packing dimensions may vary.
If you need to purchase books for resale, tax exempt, please contact us.